---
Posted by Lyn Shepstone on July 08, 2013 at 04:05 PM in General News
---
First time blogger so here goes….
Sharing What's Happening in our 'bit of Paradise' – the magnificent Bay of Islands.
Beach, Swim, Fish, Sail, Native Bush, RELAX….YES YES YES!!!!
Traffic, Traffic lights (or 'Robots' as they are known as where I come from!), Stress, RUSH….NO NO NO!!!!
The Bay of Islands Walking Weekend is coming up in October – 4, 5 and 6. Have you thought about getting out of the city to stretch your legs and at the same time (bonus!) revel in the natural beauty of the Bay.
On Sunday I dusted off my walking shoes and together with my backpack filled with camera, bottled water and raincoat (not required!), I ventured out and did the Full Circle Walk from Paihia to Russell – with a car ferry ride in between of course.
Sunny day, no wind, perfect to walk along the coastline, follow the boardwalks over the mangrove swamps and investigate the bays. Meandering in the native forest, listening to the birds, then blue sky and breathtaking "million dollar" views over the inner bay. An undulating and well maintained track which had some challenging hills. Almost four hours later I reached Russell…phew!! And then the Skipper of the ferry asked me why do you look so hot and bothered! Note to self – carry more water in future.
Highly recommended outing – only a few sore muscles and very dirty shoes, yes the track was slippery in places but somehow I only managed to trip over one log!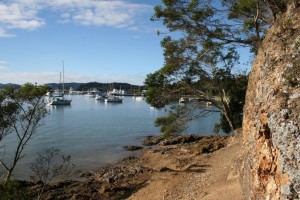 Track approaching Opua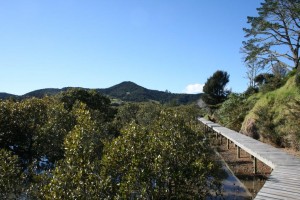 Board walk over the mangrove swamp at Matauwhi Bay