---
Posted by Breakwater Motel on July 14, 2013 at 04:06 PM in General News
---
At just 3 degrees it was certainly a 'crisp' start to a glorious day. Well 'rugged up' with beanie, jacket and scarf we drove down to Opua Marina. Outrageous – our 35ft Bertram – had to have a quick hosedown so that Ken could see through the clears (in laymans terms they are the plastic windows!).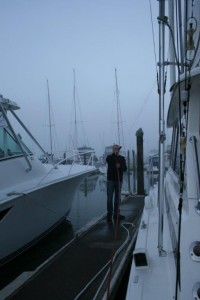 Skipper Ken hosing down the clears on a Foggy morning at Opua Marina
Fog covered the entire bay so we had a very gentle ride out until it started lifting – very grateful to the radar and gps to navigate us. The ocean was flat with a gentle swell and 'thumbs up' to the famous 'Paihia bombers' for warding off seasickness.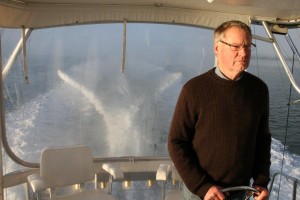 Skipper Ken navigating Outrageous through the fog
Between Skipper Ken and the fishfinder we located the first spot to throw in a line. Out came the defrosted bait and I watched as Ken kindly cut it up and attached it to the hooks. OK so I have to confess that I was not keen on baiting up as I didn't want fisherman hands, but I did manage to put the bait on once, only to have it fall into the water when I put the line in. At least I tried! Five minutes later the rod bent – YESS!! But the snapper was too small so back it went.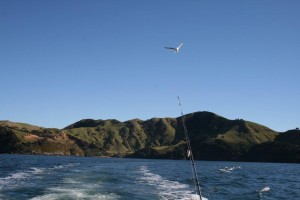 Friendly visitor eyeing out the bait
We tried different spots in the Bay but there weren't many hungry fellas out there. Lots of bites later, I eventually hooked a snapper! Not only is Ken a good skipper he is also a very talented chef – so gourmet fish and chips was had for dinner.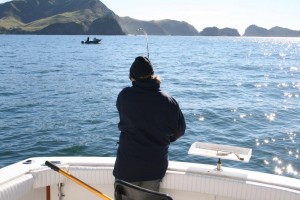 Glorious Winter Day!